Know Your Partner (Part 3).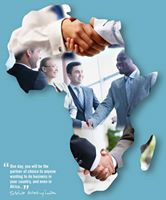 Know Your Partner (Part 3).
When I was starting out in business, nearly 30 years ago, I was made to believe that the best partners, were those people in powerful positions, who had the ability to open big doors. Being a young entrepreneur, there were many powerful people, who offered themselves, to be my "sleeping partners",or "godfathers"; to whom I could go, if I had trouble with anyone, in "the system".
As many of you are aware, I was not born into a Christian family. I became a Christian by choice, when I was already a well established businessman. It was a deep personal decision, and this is not the platform to discuss, that issue.
However,having made this decision, I threw myself with total fervor, often reading the bible,
back to back, several times a year, as I tried to "come up to speed", with my new found faith.
It was at this time, that I came to realise that I had to "play by and succeed, by a different set of rules."
…. My partnerships had to align with my faith in, and trust in God…
I could not, and would not have "sleeping
partners", in any business that I do.
I could not, and would not choose partners,simply on the basis of their ability to wield influence, or to sponsor my activities.
Let me tell you, this set me on a collision course everywhere I went, because I was essentially shunning,an entire world system.
I was despised and mocked for it. Those who were polite called me naive, and others not so kind, said I was a fool. We "lost" many contracts, and many business opportunities.
Often we had to walk away from deals that were just "mouth watering". More often than not, we were just threatened and kicked, out, leaving others to take over what we had started. And when this happened, I just never allowed myself, to have regrets, about it.
One of my great mentors, Bishop Garlington once said to me, " you are standing in the river of faith. Don't be afraid. You are not going to be swept away, and you are not going under; use your faith, to go over.."
Then he said to me:
"Focus on integrity, because one day, you will be the partner of choice for anyone wanting to do business in Africa, the right way…"
Do you want a partner?
Let me share with you a secret:
"The best partner for you, is not some big
powerful politician, or someone with a lot of money, or some big international company.
The best partner for you, is someone just like you, who has the passion for entrepreneurship, that you have. Who has the skills to compliment, what you do best, and is willing to work hard, very hard, alongside you.
It might be a man,or a woman; black or white…even from a different, tribe or nationality from you. What is key is to align your values, and respect each other's space.
Never mind the money, the power and the
influence… Its not a factor.
To be continued…
by Strive Masiyiwa.
Comments
comments