What KOT Are Talking About Uhuru And Raila Odinga Ahead Of Election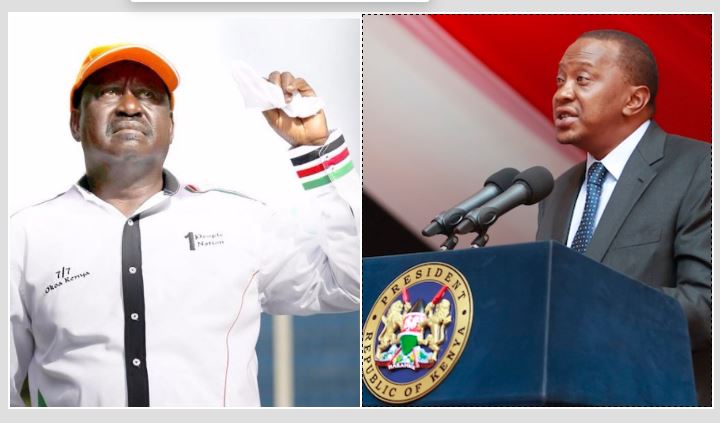 We now have less than 3 weeks left for Kenyans general election which is supposed to be held on 8th August 2017. And Kenyans on Twitter have largely changed their daily life opininons to focus on this particular agenda.
And one such big debate right now is between President Uhuru Kenya  and Raila Odinga who is NASA flag bearer and opposition leader.
The two leaders are polls favorites to win this years elections.
Here is what KOT are saying about,this are top ranked tweets by Twitter
Raila Odinga
Raila Odinga facing tough times in Kapsoit, Kericho county. The ground has already decided it's Jubilee. Who's Isaac Ruto? pic.twitter.com/uwhcJfSf1D

— Scintillator🤫 (@Atanasi_) July 6, 2017
https://twitter.com/dunia_411/status/884122865724993539
Who leaked to @RailaOdinga that policemen were trailing him? Who leaked that Ruto met GSU? Someone (traitor) had to go down.

— Eric (@amerix) July 8, 2017
This young promising lady asked the 5th President Raila Odinga to allow her be among the first visitors in statehouse. #KilifiniNASA pic.twitter.com/8EvW1J1H3o

— Kamba Pundit (@kamwash254) July 9, 2017
Kenyans will vote for Raila Odinga with their hearts,minds and whole beings because Uhuru Kenyatta's exit is a MUST. #CredibleElections pic.twitter.com/ZnOlApjbKk

— Kamba Pundit (@kamwash254) July 9, 2017
Uhuru Kenyatta
Let it be known to @UKenyatta we do not want elections postponed for even a single day we r tired with jubilee @IEBCKenya #credibleelections

— Grace yule msupa (@Gracendunge1) July 10, 2017
Looking at @UKenyatta talk after the ballot paper printing was cancelled I saw a very bitter and frustrated man #RespectTheJudiciary

— Tru Asembo (@trueasembo) July 10, 2017
#RIPNkaissery Hours after the demise of Gen.Nkaissery President Uhuru Kenyatta appoints Matiang'i, does this mean Uhuru was prepared?

— Ngumbau Ya Ngumbau (@bemutiso) July 8, 2017
Uhuru Kenyatta, my President, telling lies from High office. I don't know when Raila ever said "akichukua uongozi wengine watarudi makwaao"

— David Makali (@davidmakali1) July 5, 2017
Ndugu @UKenyatta I voted for you in 2013, but this election is btw you & KENYANS not even Raila, Don't blame courts bwana.TUKUTANE KWA DEBE

— Ambassador Wachira Dennis (@WachiraDennis1) July 9, 2017
BREAKING: President Uhuru Kenyatta & Deputy Ruto have today in Kabaranet blamed the IEBC & the CJ for the imminent defeat on 8/8…

— Philip Etale (@EtalePhilip) July 9, 2017