Merchants Of Impunity- Mercedes Driver Takes A Humble Pie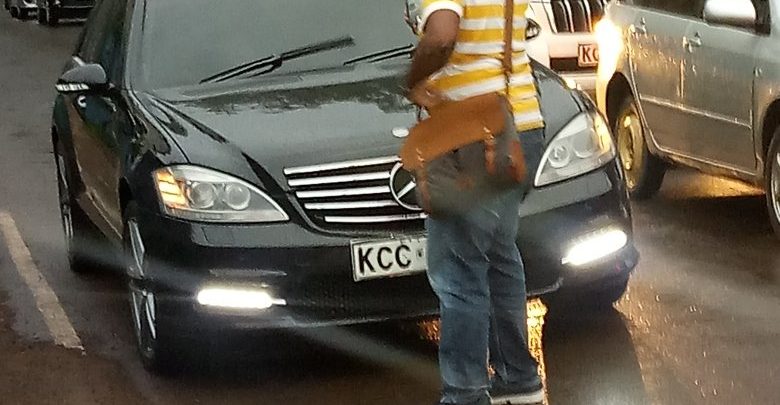 The heavy rains have secretly invaded Nairobians despite the MET department sounding a warning that the heavy rains will continue to be experienced.
So @DavidLemayian stood in front of a driver overlapping on Kamburu Drive, blocking him from driving on the wrong side… Apparently this man in a Merc thought that lane discipline is for everyone else, not him. pic.twitter.com/tfw9e2dp1V

— Eric Mugendi 🇰🇪 (@mougendi) April 16, 2018
But for Nairobi commuters, heavy rains is a green-light of traffic snarl-ups punctuated with driving madness majorly overlapping and careless driving .
Well, a Mercedes Benz driver had a long day after he was blocked by an innocent pedestrian from the virtue of overlapping.
Even though the culprits are just few, their presence is so huge and disturbing to everyone.
The pedestrian labelled as David Lemayan, has rekindled the debate over Nairobi driving menace as a result of heavy rains.
It is also a shame, since drivers of posh cars are thought to be well mannered and disciplined while on the roads.
Twitter handlers took to internet to shame and try to identify the culprit
Brave active citizen @DavidLemayian stopping a law breaker. We need more brave Kenyans like him! If the police won't enforce the law, we the citizens will. #TeamCOURAGE pic.twitter.com/jxk4v1zMPP

— Boniface Mwangi (@bonifacemwangi) April 16, 2018
Arrived to Twitter to a lot of love. A lot of Kenyans tired of "waheshimiwa" / "honourables" thinking they can live above the law. This car belonging to a Member of National Assembly was breaking the law. I would never ask anyone to risk their lives but I am tired too. #ActNOW https://t.co/1KymDlch5t

— uɐıʎɐɯəl pıʌɐp (@DavidLemayian) April 16, 2018
The overlapping car that @DavidLemayian stopped, number plate KCC 600P belongs to Kapseret MP, Oscar Kipchumba Sudi. More Kenyans should emulate Lemayian especially motorists. @Ma3Route @PoliceKE @ntsa_kenya pic.twitter.com/Q1jc8EUuIS

— Boniface Mwangi (@bonifacemwangi) April 16, 2018
More small accidents
09:07 #KenyanTraffic Accident at ngara just after Bridge, Kenya mpya and a small car @NairobiAlerts pic.twitter.com/PUcifQMkSR via @digitalmkenya

— KenyanTraffic (@KenyanTraffic) April 17, 2018
08:19 Overlapping gone bad.. KasaraniMwiki road pic.twitter.com/so3bQouSwD via @EOWalong

— Ma3Route (@Ma3Route) April 17, 2018
09:08 #KenyanTraffic as you approach GM from town on Mombasa road, be careful there is a matatu on the ditch Indimanje sacco. pic.twitter.com/3AszTdumKS via @PRSA_Roadsafety

— KenyanTraffic (@KenyanTraffic) April 17, 2018
Comments
comments