Spectacular Chinese Library Has Shelved More Than 1.2 Million Books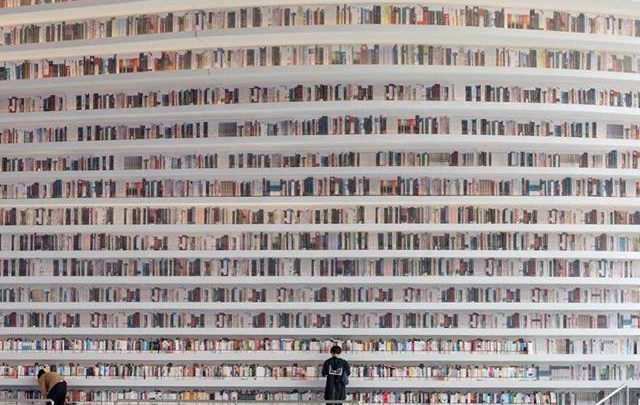 Those who love architecture and reading have a new tourist destination to visit on their next leisure trip: The Tianjin Binhai Library (China), 33,700 m2 cultural center with enough space to house 1.2 million books in an environment that invites you to enjoy the stay with all the senses
Since its opening in 2017 October the most beautiful library in China" or "the futuristic library" has conquered the eyes of half the world after the dissemination of the first photographs shared in the media and social networks.
The Tianjin Binhai Library is located in the cultural district of Binhai, along with four other buildings. Its futuristic design features a bright spherical auditorium surrounded by cascades of books from the floor to the ceiling, where the undulating shelves act as stairs and seats.
In the center a luminous sphere and in the exterior facade of the silhouette of an eye, giving the sensation to the visitors that they are walking inside a giant eye, an illusion for which it has earned the eye its pleasure of sight.
The space is divided into five levels. The underground level has a service and storage space for books.
The ground floor is the main entrance of easy access for children, seniors and people with reduced mobility where the auditorium and reading rooms are located.
The next two floors have more rooms and books, and the latter house space for meeting rooms, offices, rooms with computers, music rooms and two large terraces on the roof.
This library was designed and built in a record time of only three years. The project was carried out by studying architecture Dutch MVRDV in Tianjin and had the collaboration of the Institute of Urban Planning and Design of the municipality.
Comments
comments