President Uhuru Kenyatta As A Paparazzi In South Africa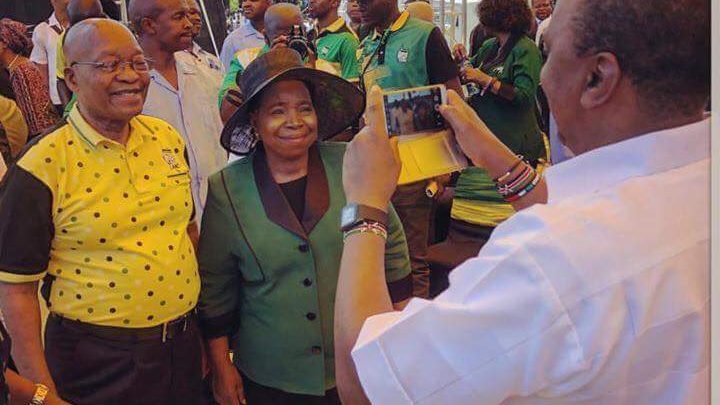 President Uhuru Kenyatta arrived back in the country a couple of hours ago after jetting away to South Africa on January 11th this year to discuss national issues with South African government.
During his short stay in the nation which is poised for general elections in just a couple of months to come, Uhuru had light and thick moments.
His light moments came during a celebration he was a guest, and had to go behind the camera and take photos, it was interesting to see the man who is always before the lenses go behind them.
Song and dance as President Kenyatta joins ANC leaders, members for birthday https://t.co/389yysHwIy pic.twitter.com/k5C21yu9rY

— Uhuru Kenyatta (@UKenyatta) January 13, 2018
On a bad note, South African state guards did a poor job when they let an armored vehicle hit off the president as he left of the vehicle moments after landing in SA
President Uhuru's Security Accidentally Hit Him With Car Door pic.twitter.com/ERBU8Fd3AX

— NG'ANG'A THE BLOGGER, A FINE SON OF THE MOUNTAIN (@IamNjokiKelvin) January 11, 2018
The president did not forget to wish Kenya's Michael Olunga who set a new record in La Liga of scoring a hat-trick and becoming the first Kenyan and Girona FC player top score 3 goals in Spanish and Europe top flying lerague La Liga
Congratulations Michael @OgadaOlunga for making history as the first Kenyan footballer to score a goal in the @LaLiga; and the first player to score a hattrick for @GironaFC in the Spanish top league. Continue flying the #MagicalKenya flag high. pic.twitter.com/6n4qC2juDG

— Uhuru Kenyatta (@UKenyatta) January 13, 2018
Comments
comments