10 Kenyan Actors With The Most Beautiful Girlfriends
In Kenyan TV drama and film industry, any man dating in the soapies always gets the beautiful set on stage to actor love with. Now that is easy on TV.
Back to normal life, it is not easy to land a beautiful girl and convince her to be waking up with your every other morning.
Something challenging makes and gives forth heroes, we look at some of the 10 best power couples from Kenyan actors.
Nick Mutuma
Nick Mutuma and his wife Bridget Shighadi living in US have already welcomed their first born. Nick is a common feature with looks on local TV drama such as Shuga
Njugush
Njuguhs, like Mutuma, welcomed his first born with Celestine Ndinda in 2018. Njugush who used to be featured on House Help of Kawangware has soon been moved to comedy stands
Maqmud Mohammed
Donavan is married to Varshita in the comedy drama show Auntie Boss, but in reality he is a happy father and husband with a big family to adore.
Maqmud Mohammed is his citizenship name, hailing from Mombasa
OJ
From Tahidi High show, Oj is a happy father of one with his longtime girlfriend. On the screen he is more of a playboy, but the lad is a very responsible husband
Philip Karanja
Catherine Kamau aka Celina said I Do to her long-term boyfriend and actor Philip Karanja.
Celina is better known to feature on 'Mother In Law' while Philip Karanja featured on then Tahidi High.
The ceremony happened on  at Windsor Hotel, Nairobi which was mostly attended by fellow actors and actresses.
Ras
Mother-In-Law weekly show has served more than just entertaining section as a film, it also brought together two souls for marriage.
Jackie and Ras cannot even hide their love affair relationships even after going off the screen as the two continue to fall in love crazily.
IT'S NOT ABOUT WORK,THINK AM ADDICTED TO HIM

"OHHHHH GUYS THANKS SO MUCH, HE IS A GREAT FRIEND, AND A BROTHER. A TRUE FRIEND!"
It is not clear whether Ras is the dad to her adorable kid
Abel Mutua
Abel Mutua and Judy Nyawira have been married for about one year now, though they have been off the media, there love is still spoken about in their dormancy.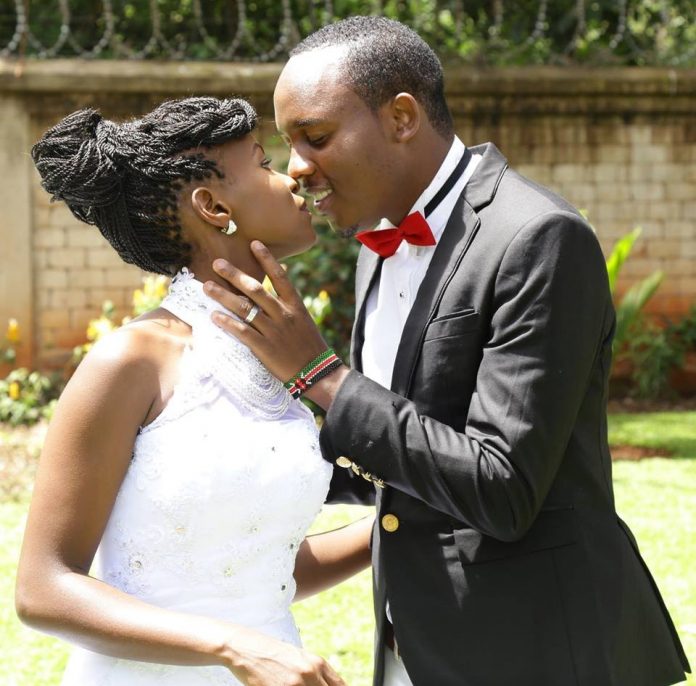 Many have wedded and splitted within the same or less period Abel have,  but didn't last so far.
The duo have come forth and declared that they are still lovely in marriage.
"I can't believe it's been one year already. Everyday in this marriage has been proof to me that this was the right choice. I love you babe. 1 down. 99 to go. After we hit 100 please let's see other people. Please," Abel wrote.
Judy responded to the beautiful message with "@abelmutua agreed! Love you too babe!"
Almasi 17 years
Mchachari actor Almasi has been the talk of the town. He has had a private affair with his girl whom he is yet to disclose. But we gonna wish him all the best all though
Dale
After months down the line since they wedded in a private wedding, Sarah Hassan is still madly in love with her hubby Martin Ndale.
Though the duo relocated to USA, their presence is still greatly felt in Kenya.
Sarah Hassan wrote to her husband through her lovely fans on social media a very romantic message, which exactly shows that they two are enjoying themselves after wedding months ago.
Grateful🙏🏽! #fbf to 6 months ago when I said YES to my best friend and soulmate ❤❤❤ Every day I feel Blessed to be married to the love of my life❤
Gerald Langiri
Gerald Langiri proposed to Lyne Jumba whom they had met on Facebook before the two went on to be stars at the local drama show House of Lungala

Comments
comments