5 Theories Trying To Explain Murder Of Sharon Otieno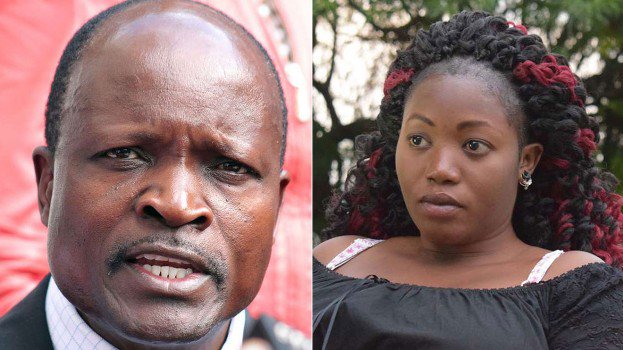 The Rongo University Student who was murdered while at 26 years, was said to be dating three men after leaving her husband of three kids.
Late Sharon Otieno, as sources say was in love with Migori Governor Okoth Obado, his son and Hon.Obado's aide Micheal Oyamo, a former Army service man.
Since her death, so many theories have surfaced over who might have wanted her dead, and how she died.
We explore some of the revaluations taking place even as police continue with their investigations
1.Hon.Okoth Obado
The embattled governor is a key suspect according to social media. Nairobi Governor even made it public that the politician had a direct influence in the death of the campus girl.
Many of such believers hang on the theory that the leader was afraid of the woman's pregnancy, her demand to be a second wife and her constant contact with the governor. Claims say that she refused to abort the kid when the governor ordered her to do so.
Left with no option, the governor was left to hire hitmen to remove Sharon and the nation reporter who had already picked up the story.
The idea that Sharon had threatened to expose governor on media is said to have angered the governor more than before.
The theory however lacks strong evidence in factual statements. It's only the judges who can decide over these theory.
2.Kidnapper's took matters into their own hands
Another seeming theory, has it that kidnappers took matters into their own hands. Since these are thought to be one of the lethal hitmen, are said to have unleashed their wrath on the powerless lady. raped, strangled and stabbed her 8 times.
These hired kidnappers are also thought to have caused the death of Sharon contrary to governors plan of just torturing and intimidating the two victims which ended up costing a life.
The theory's weaknesses pegs on them easily letting Nation reporter escape easily. They would have not let him of even if he jumped off a moving car.
3.PA Micheal Oyamo
Death plan or kidnapping squad could be all a single idea of Oyamo, who was Obado's aide.
Those who support the theory believe that Obado might have handed the buck to the PA who- having went through military experience- was accustomed to solving solutions by eliminating the subjects.
Obado might have told the PA to handle the matter, who against his wish over-thought and hired the killer squad to eliminate those behind Obado's nightmares.
Weakness of theory- If Oyamo was also dating this girl, that would not have happened. Even if the girl died Oyamo through this theory, he would end up suffering more than the politician.
4.Obado's Wife
This is however a very rare theory, which the believers say that the First lady of Migori county was not prepared for a co-wife or even a possibility of losing her position as Migori first lady.
Another one, if the romour that the girl was in lover with her to men- son and husband.
And so she did the task of hiring men to terminate the source of her future problem. This leaves everyone innocent except the killer squad and the county first lady.
Weakness- First lady would not benefit from killing Nation reporter, besides there are no close evidence to this account
5.Barrack Oduor's inconsistent account
The Nation reporter who fled the murder vehicle by jumping off while it was still moving, is said to have been used to lead Sharon into her death.
The theory however says Barrack was more of a pawn, used to bring the main target to the slaughter-house. But Barrack was 'easily' let loose by the murderers.
Barrack's case has been made public by controversial lawyer Miguna Miguna.
He believes that the reporter would not have managed to escape and jump of from a car moving at 100Km/h.
If anybody jumps out of a vehicle being driven at 100 KMs per hour, he does not land on his knee. He lands on his head or neck and shoulders. He will have broken ribs, bones and possibly a broken neck. Not bruised knees. The Barrack Oduor story is for monkeys with IQ of 50.

— Dr. Miguna Miguna (@MigunaMiguna) September 9, 2018
The questions are: Why did Barrack Oduor lie about how and where he sustained his minor injuries which are not consistent with "jumping out of a vehicle going at 100 Kms per hour?" Who is he protecting and why? We cannot seek justice for Sharon Otieno by concealing the truth.

— Dr. Miguna Miguna (@MigunaMiguna) September 9, 2018
He also questions on Why Barrack was able to escape from the hands of his abductors based on his account that he had been sandwiched between them.
If Barrack Oduor, a small man, was "sandwiched" between two men in a four wheeler, one of the men would have fallen out with him as he "jumped." Did the "men" shoot at him? Why not? More significantly, where was Sharon Otieno in the vehicle? We need the TRUTH. Not lies.

— Dr. Miguna Miguna (@MigunaMiguna) September 9, 2018
Weakness- The reporter too, would not benefit from terminating life of Sharon
6.Ochillo Ayacko
Ochillo Ayacko case seems realistic but away from being factual. The politician vying to be the next Migori senator is said to be a close rival of Obado.
He might have taken this advantage and taint Obado's image down so as to have a big mileage politically.
Weakness- too good to be true and factual.
Verdict
The only people who stand between the truth are the police who are working on the investigation cae
Comments
comments