'Handsome' Most Wanted Goon Partied With Sonko Before Attacking Their Target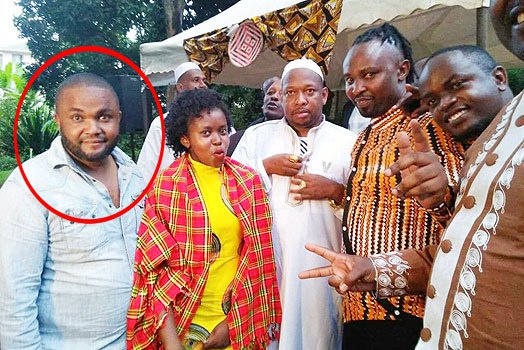 City lawyer Ahmednasir Abdullahi has revealed photos of the most wanted goon who is thought to have been in good company with Mike Sonko before launching their assault on the former Nairobi Central Business District Association chairman Timothy Muriuki at Hotel Boulevard.
EALA MP Simon Mbugua arrested after he was linked to the assault on NCBDA's Timothy Muriuki; key suspects at large. pic.twitter.com/rC8NnnvY7N

— Breaking News KE! (@BreakingNewsKE) May 8, 2018
The lawyer asked why the goon had not been arrested despite the fact of his well known connection.
The Nairobi governor press was quick to distance from the photos which are believed to have been taken just last week.
"Photo opportunities cannot be a proof of association. Even the President and ex-PM have taken photos with criminals before during campaigns. This public wedding happened on 28th April and the bride and bride groom made the ceremony a public event so the governor was forced to take photos with all his supporters and the governor had no idea who he was taking photos with. The Boulevard incident happened on 30th April after the wedding," said Sonko's communication aide Richard Bosire.
The said photos are from a wedding in Kileleshwa which was groomed by Gaddafi Hassan, and his wife Beatrice. Among the big heads invites were Mr.Sonko and politician Nick Salat.
The police have since splashed 2.5 million shillings to anyone who will provide information that would lead to the arrst of the goons.
The goons claimed that Mr.Muriuki was about to tarnish the governors name, a claim the office of the governor has distanced itself from.
Later on 8th May 2018, EALA MP Simon Mbugua was arrested in the connection to the said assault. Mr. Mbugua is a former Starehe MP
The police are allegedly looking for the trio…and they attended this lavish wedding last Saturday with Hon Governor @WMutunga pic.twitter.com/P7UIfEDvIu

— Ahmednasir Abdullahi (@ahmednasirlaw) May 8, 2018
Comments
comments