Juju Fan 'Restores' Arsenal Wining Ways After Dress Room Visit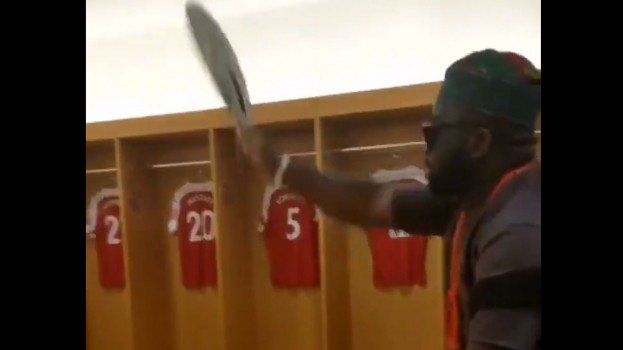 Arsenal FC narrowly escaped another shambolic result on last game weekend fixture after they won 3 goals against Cardiff City despite the newly promoted club humbling them with two shocker goals.
The Wenger-less club could have easily let their win slip away the same way they dropped their points to Man City and Chelsea, but thanks to a Nigerian juju man who 'blessed' spirits of players before they went on to win their second game in a row.
The Juju man is seen administering 'blessings' on player's jersey as he keeps mumbling and fumbling with slightly audible words. His insatiable appetite to 'bless' country man Alex Iwobi was also a moment of hilarity in his mission.
Unai Emery who replaced Arsene Wenger no doubt has struggled in his first four matches.
So after two unfortunate results by @Arsenal, I stormed their dressing room to bless it and boom the boys won the third game against West Ham. Can I hear Cheeee 😂😂.

Cardiff city is already going down tomorrow, no shaking. Bless 🙏#arsenal #football #nigeria #emiratesstadium pic.twitter.com/xQPRaGTeCB

— Dr. Kelechi Anyikude (@KelechiAFC) September 1, 2018
Comments
comments