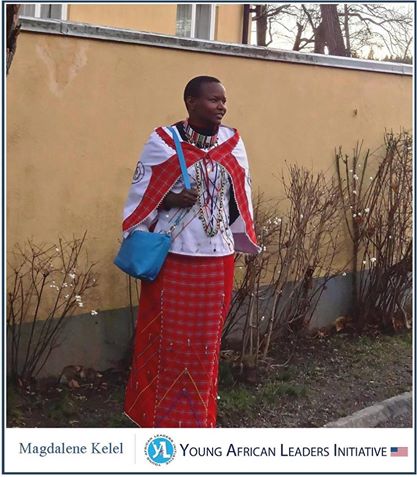 Magdalene Kelel
Focused on integrated community care and change: Magdalene Kelel is a founding member of Kajiado Youth Congress which provides a platform for young people to participate in the democratic process in Kajiado County. She is also a Project Manager for an HIV/AIDS project with Free Pentecostal Fellowship which seeks to build community capacity to identify and respond to vulnerabilities. A dedicated leader passionate about education for girls and early childhood, Magdalene also runs a mentorship program for girls in collaboration with Indigenous People in Action, and she has started an early childhood center in Oloserian farm.
Magdalene has a Bachelor of Arts in History degree from Egerton University and is pursuing a Master's in History at the same university.
As a YALI Fellow, Magdalene will use the knowledge and connections she gains to enhance civic leadership and education in Maasailand by setting up early childhood centers in villages that will offer both education and training facilities. She wants to empower Maasai community members to make a difference in their children's education and livelihood.
Youth Village Kenya acknowledge  Magdalene as she inspires change and empowerment. Congratulations Magdalene!
Credit : U.S Embassy Nairobi and Young African Leaders Initiative (YALI) .