You Do Not Need A Computer To Learn To Use Word, Only A Blackboard And A Chalk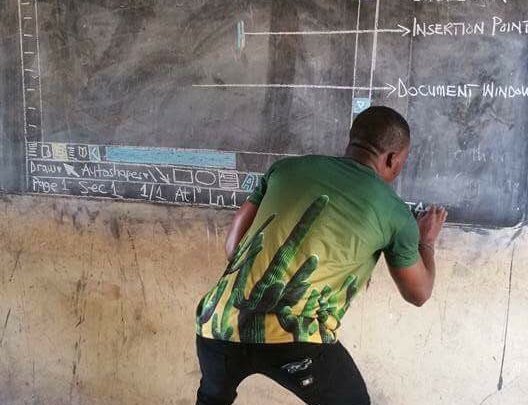 Who said that it is not possible to learn to use a computer program, without ever seeing it inside this device?
It seems archaic and some that have caused strangeness in many who have ended up in this news, but it is a reality for many schools that must teach this subject and do not have the appropriate equipment.
It is the situation that has been living for several years this Ghanaian teacher named Richard Appiah Akoto. We tell you his story.
The school where he has been working as a high school teacher for 6 years, the Betenase M / A Junior High School (Sekyedomase), has not had computers since 2011.
The shocking thing is that his students must pass to national exam that includes knowledge about Technology. of Information and Communication, so without computers where you could review the subject you had to find a solution and found it in the most basic teaching: chalk and blackboard.
For Akoto, this impediment became a challenge and I thought that it was possible to teach how to use WORD and other computer commands in this way. I posted it on his Facebook account:
The story went viral and Quartz digital magazine has managed to talk to the protagonist who says that, despite the fact that the photos were uploaded in mid-February, I had already used this form of teaching on more than one occasion: "I always do I have to teach.
I like to upload photos to Facebook and I wanted to share them. I did not know that it was going to get the attention of so many people. "
The good news is that the story came to a well-known comedian from the country and also a teacher, Rebecca Enonchong, who, seeing the conditions in which she worked, decided to do something for him.
For this reason, he wrote to Microsoft that he could provide an adequate team, something to which they agreed: "Supporting teachers to allow digital transformation in education is the core of our work."
We will equip Owura Kwadwo (teacher's name on Facebook) with a team and free access to our professional development resources program. "
Supporting teachers to enable digital transformation in education is at the core of what we do. We will equip Owura Kwadwo with a device from one of our partners, and access to our MCE program & free professional development resources on https://t.co/dJ6loRUOdg

— Microsoft Africa (@MicrosoftAfrica) February 27, 2018
It should be noted that Akoto does have a laptop, which if wanted, I could take it to school, but it differs from the program of the course I must follow. So I preferred to teach in this way. Of course, now you can do it with tools aimed at students and the course plan, and not just with chalk and blackboard.
Comments
comments