NTV Takes #JuliusMalemaChallenge At The Doorstep Of KTN News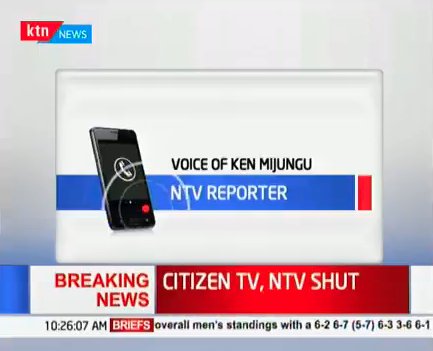 The last time NTV and KTN had a direct contact, it was for a good course. Few days ago they had a direct contact but it was for the course of business, not pleasing to everyone.
During the Post Election standoff of 2017, Ken Mijungu from NTV reported for KTN news during the NASA 'swearing in' ceremony, and almost everyone was pleased.
But few days ago, NTV took a jibe at KTN News, implying that they had less followers as compared to them.
They are here mama those who aspire to hit 1.8M followers, give them a sign mama. #JuliusMalemaChallenge https://t.co/dbEHWzLO6b

— NTV Kenya (@ntvkenya) April 16, 2018
NTV had thought that KTN was attacking them, only to get it wrong. KTN News have less than 450K followers on Twitter
They are here mama those who see our tweets and do not comment and retweet…… They are here MAMA!!! #JuliusMalemaChallenge pic.twitter.com/y2fFw9CaaQ

— KTN News (@KTNNews) April 15, 2018
Despite commanding a huge number of followers on Twitter, atleast 1.8 million, NTV has been on the brink and verge of criticism after they axed and sacked prominent newsmen which later compromised their credibility.
KTN had won hearts of many news audience from their perceived candid reporting
Comments
comments