Principal Downs Suits For School Uniform To Disguise Himself From Angry Locals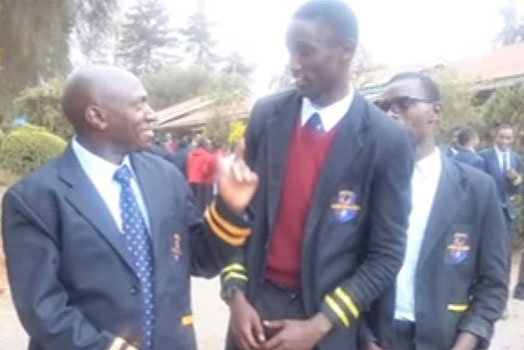 Mr.Alex Maina Kariuki the principal of Friends School Kamusinga in Bungoma county, is not your normal head of school you are used to.
Since the old man downed his suits for simple school uniform, it is difficult for students to single him out, and not even his fellow teachers can do so.
It is a bizarre leadership skill from Mr.Kariuki that has left locals from Bungoma county scratching their heads.
Just like his students, he is in his official school uniform, from shirt, to trousers to socks and tie all matching with his boys.
The man who came at the helm of such a high ranking school, was transferred from Ololaiser High School in Kajiado county in January 2018. Ololaiser High School  is a slightly low ranking school, something that angered the near community .
Days after Bungoma Governor Wycliffe Wangamati  threatened his eviction, local MCAs and community members marched to his office and frog matched him before locking his office.
The tactical man, went ahead and thought how he could do to weather down the heavy storm, his secrete weapon was his school uniform which he used to camouflage from his assailants who did not want him from the top class school.
His unique leadership skill has also earned his another point in his life with the students.
"I have very basic reasons why I put on school uniform. One of them is to identify me with the students, get to their level and be reachable in case they have a need because the uniform puts people on the same bar." Maina said
Twitter Feed
New Friends School Kamusinga principal Alex Kariuki Maina thrown out of the school & his office locked by locals led by 3 Bungoma MCAs.

— David Mbewa (@MbewaDavid) January 10, 2018
ALEX MAINA of Ololaiser takes over Kamusinga High School. While Chebii from Kapsowar takes over at Lugulu Girls. What rubbish is this??? We have build our schools through sweat and blood, how principals from low performing schools are taking over is appalling!!

— Eric (@amerix) December 22, 2017
Comments
comments