Sophia, First Humanoid Robot Pays Ethiopian PM Courtesy Call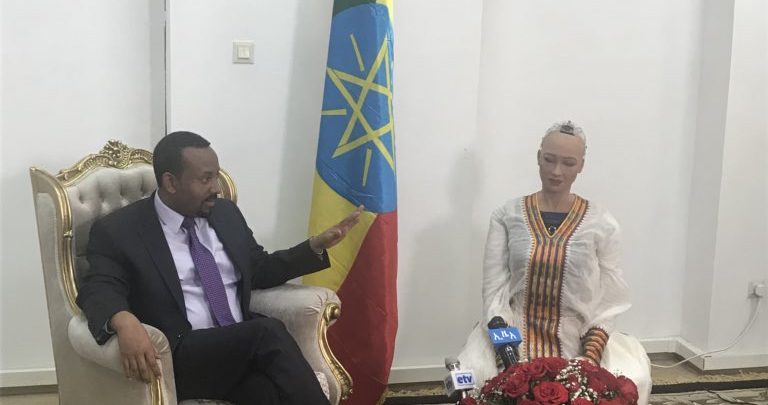 First ever humanoid robot called Sophia visited Ethiopian Prime Minister, a move that has excited social media.
Sophia -the first humanoid robot-today visited HE PM Abiy. He was pleased to hear the brilliant Ethiopia AI developers at @iCog_Labs were part of her dev't. #Ethiopia will increase support to nurture an innovation eco-system and create opportunities for our best and brightest. pic.twitter.com/RC1aAFYVqu

— Fitsum Arega (@fitsumaregaa) July 2, 2018
The PM was addressing a joint press conference which was aimed at promoting robotics and innovation in their country.
A power plug can be spotted from behind the robot raising the concern over its ability to work when power is not available.
Social media went abuzz with mixed reactions
PM Abiy Ahmed have time to meet robot but no time to Somali Elders and delegates in Adis Ababa. We support him but I would like to say shame on you. pm. Abiy and respect our Elders and meet them.

— Abdurezak (@sayidcade2011) July 2, 2018
Why she is light skinned?

— @Our Oil: No Way, No How (@ogadenonline) July 2, 2018
If power goes off for a few seconds, does it reboot b4 the conversation continues 🤔🤔

— Kamau Kírígwí🇰🇪 (@kamauKirigwi_KE) July 2, 2018
Comments
comments