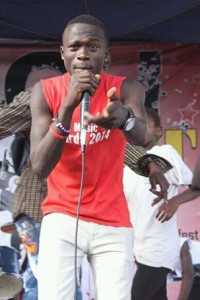 STAR FROM KOROGOCHO
Planning a children's concert scheduled for December. Julliy has hope that someday he will top charts with his music Get to know more about his inspiring journey one of hope and determination
1. Who is Julliy?
– julliys real name is Julius Ochieng who does bongo chakacha gospel,I got my stage name julliy mwanakochi from my slum area known as korokocho.Julliy is from my real name and mwanakochi is from my slum name in korogocho. 2. Educational Background?
-Am still in high school at St.teresa's boys secondary school in Eastligh form three.
3. What inspires you to do music?
-i was once a primary school dropout and coming from a single family, life was very tough..i was touched by the life that the youths in my area were experiencing and I was motivated to sing gospel to make them change their evil ways. 4. Challenges you have faced so far as an upcoming artist.
-funds :at times I do luck fund to produce a Audio song
-Mockery from friends/family and relatives
-Performance denial from organizers
-Lack of promoter to assist me in marketing my songs 5.Most memorable thing in your music career
I once went to perform at kiyeni Girls and it really rained, when I was about to depart I realize I dint have bus fare, so I was forced to borrow from my Mother through m pesa.
6. What are your views on Kenyan Market?
I think Kenyan market  is slightly better than before because of recent online sites like Mdundo that promote local artist.
7.Any role models?
-My mother comes first because she made me who I am today
My next role model is Gloria Muliro and Daddy owen because they are true in gospel ministry.8. How do you come up with your lyrics
-Some from bible
-People in my community
-And my experience in life. 9. Any acknowledgments or appreciation of people behind you and how to get your music.
-I appreciate my Mum,Mr  Hamilton Ayiera for the support of taking me back to school.
-You can download my music from mdundo,sound cloud and also you tube
10. Where do you see yourself in 10 years .
-In 10 years time I think I will be founder and composer of bongo chakacha songs in my slum area and allover east africa.Remember to include a photo of you and a link on how to get your music too.
Listen to my song here
How do I get you incase I need to support you.
-My phone no is:0790362705
-E mail address:[email protected]
-facebook account: Julliy mwanakochi