Jaguar's Expensive Range Rover Costs 2 Lives Of Boda Boda Riders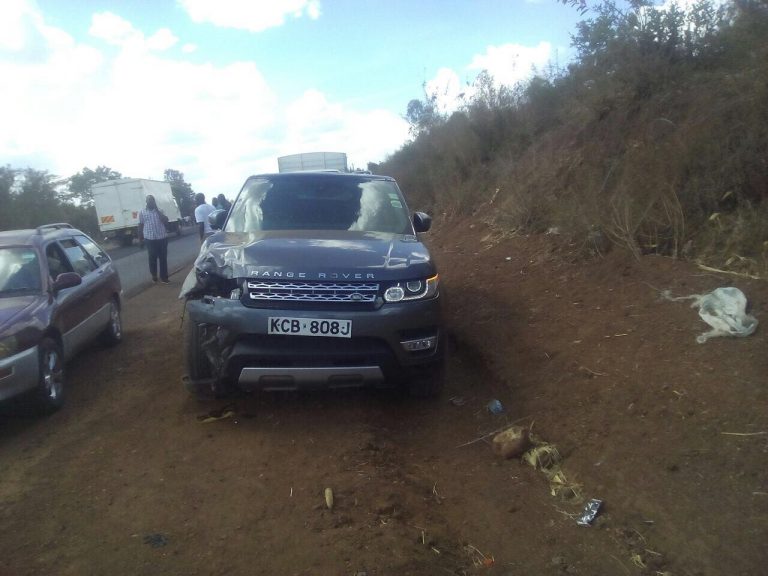 Charles Njagua alias Jaguar popularly known for Kigeugeu  hit song has been thrown in an accident case involving his expensive Range Rover Sport.
According to witnesses, his car hit two innocent boda boda riders along the busy strip of Sagana. The true driver has not yet been established even though witnesses account that a lady was on the wheels.
Jaguar, contrary has claimed the responsibility.
Jaguar has had a hitted campaign in Nairobi as he hopes to get nominated on Jubilee ticket for Starehe constituency in Nairobi.
Here is a witness account posted on Facebook.
Yesterday around 3pm, along Makutano Sagana high way two young men, Joseph Maingi and Mugo Abdalla lost their lives. They were hit by a vehicle, a range rover sport, registration number KCB 808 J. The eye witness says that the driver was a lady who stopped few metres from the scene. The road is under construction, so the vehicles needed blocking to pave way for other road users and still give time to the constructors. The driver of the said Range rover did not wait in line for cars to be cleared from her side, she was from Sagana heading to Makutano while the two were heading to Sagana. That's when she hit the duo, who were almost joining the highway.

 The 'boda boda they were using went to one side, while the two young men fell on the other side. They both died on the spot. Jaguar, the alleged owner of the vehicle came around 3.30 and said he was the one driving the vehicle, even though the eye witnesses saw the lady driving it. The policemen from Rukanga police post alerted their counterparts from Sagana who towed the vehicle away. The lady plus Jaguar left for Sagana police station. Later on, the parents to Mugo went to Sagana police station. They were denied the chance to see the vehicle that took away the life of their son. They were told to come with their eye witnesses. Today morning, Kamau, a brother to Maingi went to Sagana Police Station. He was denied a chance to see the vehicle too. He was told they haven't found the owner of the vehicle. What has changed from yesterday? From the eye witnesses, we managed to get the photos of the car that hit them.
Comments
comments