Internship
Agronomy Graduate Trainee Program Flamingo Horticulture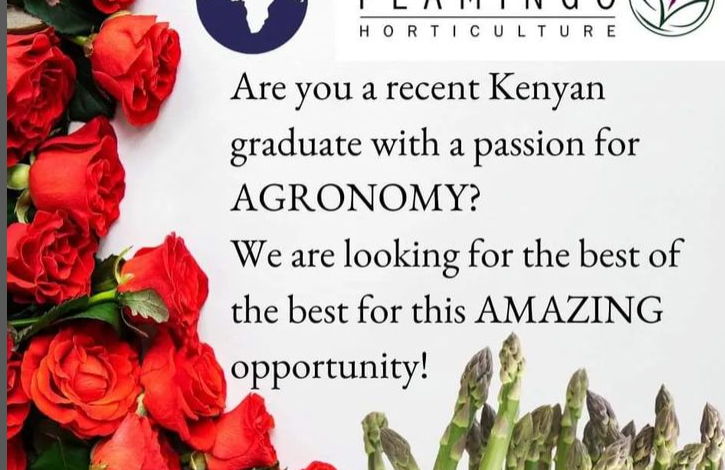 This is an incredible opportunity for a recent Kenyan graduate looking to start a real career with a top international horticultural company!
Don't miss your chance!
APPLY NOW: https://by-appointment-africa.breezy.hr/p/4b8acb56da03-agronomy-graduate-trainee-program-flamingo-horticulture
Flamingo Horticulture is a vertically integrated horticultural business active in the growing, processing, marketing and distribution of sustainably produced flowers and premium vegetables.
Flamingo Horticulture is a core supplier to leading UK retailers and internationally, to customers in Europe, South Africa, the Middle East, Japan and Australia.
The quality of their processing operations, distribution network and their extensive farming operations in Africa gives them the infrastructure and technical capabilities to deliver an impeccable service to all of their customers, helping them maintain their position as one of the leading, global companies within the industry.
The Group consists of Flamingo Flowers, Flamingo Produce, Flamingo Horticulture Kenya, Omniflora and FV SeleQt.
The group employs more than 9,000 people globally. They are an ethical business which prides themselves on being fully committed to the principles of fairness and sustainability.
They are looking for seven (7) highly ambitious, driven and result oriented graduate trainees to join their team.
Flamingo have selected By Appointment Africa (BAA) to run this graduate program in its entirety. This is important to note as all correspondence will come via BAA. (Details below)
Why enrol for the Flamingo Graduate Trainee Program?
The Scheme:
The program is designed to give the successful candidates broad experience in a variety of business functions, to fully understand the way in which the business operates and uncover their leadership potential. With this strong foundation of extensive knowledge and experience, you will be in a prime position to take on a senior position after completing the program, which runs for three (3) years.
Each placement will be a real role, giving you genuine responsibility from day one. You will gain real leadership experience that will be invaluable to your long-term career.
You can expect to develop a strong understanding in a range of functions and roles that may include:
Supply – Collaborate with suppliers and customers to understand and meet demand
Operations – Working to understand and add value to the core farming operations
Account Management – Managing strategic relationships with the likes of Tesco, M&S and Waitrose
Buying – Sourcing great products at the right price
Other Functional and Technical roles within the business.
At the end of the program you will take on a substantive post within the mid to senior management team with the goal of becoming future business leaders.
Training and Development:
Throughout the program you will receive extensive and exceptional learning and development opportunities. You will have a mentor throughout the program to monitor your development, as well as support from your Line Manager at each rotation.
You will have the opportunity to study for further qualifications including potential sponsorship for post graduate qualifications. Specific on-the-job training will also be provided at each rotation.
Salary and Benefits:
Your salary will be competitive and you could expect this to increase throughout the course of the program.
Knowledge & Qualifications
 Recent university graduate from a recognized institution with a minimum of second-
class honors upper division degree in Agronomy, Horticulture or a related field.
 Should have graduated not more than 2 year prior to date of application.
 Proven passion in farming and crop nutrition and protection with a wider
understanding of IPM.
 Able to plan, implement and control production schedule.
 Exceptional active listening verbal and written communication skills.
 Strong research, decision making, critical thinking, and problem-solving skills
 Awareness of industry trends, threats, technology, and developments.
 Knowledge of soil /Soiless and crop husbandry principles.
 Proficient in MS Office.
Who you are:
You are highly ambitious, with a passion and in-depth understanding of growing, with an infectious enthusiasm for learning.
You are hands on, with a proactive approach and will not be a clockwatcher.
You are authentic and knowledgeable about farming and horticulture practice.
You do enjoy being accountable and taking ownership of your tasks.
You are able to thrive on being able to deliver against demanding deadlines.
You have great people skills.