Meet Anne Mutheu, Kenya's Richest Church-Going Witch-doctor With Ksh.40 Million Palace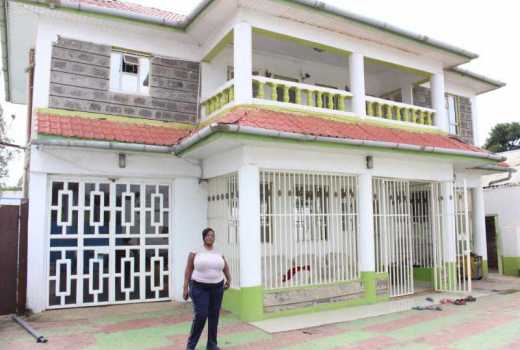 At first Anne Mutheu could be mistaken for a politicians wife, or to be a lucky politician so to say. But that is not the case.
Anne is one of the top rich witchdoctors living on Kenya's fast-lane way. From owning a Ksh.40 million palatial house to flashy cars.
As if that is not enough, Anne Mutheu jets in and out of the country like one of those VVIP individuals.
While her fellows are promising riches to their customers, they are different from Anne since themselves are languishing in the same poverty, an act that raises eye-brows.
The class eight dropout  says she is different
"Most people assume that witchdoctors are poor and lead miserable lives. That is not the case. I am a woman of means and my juju business has made me rich," the former student at Katwii Primary School confessed
And if you thought she is a poor medicine doctor you might be wrong. She has countless wealth across the country
 "My properties are countless since I also invest in real estate within the country. I have three lorries, three public service vehicles, three personal cars, a petrol station and plots in Nakuru, Nairobi, Mombasa, Malindi and here in Tala."
"Most witchdoctors live in dirty places, which is a turn off. I decided to do my business differently. Clients are always streaming in seeking my services. You see, if you make them feel comfortable, they will always come back," she said, adding that, "For example, a sofa set which is in the room where I treat my clients is worth Sh350,000. The room has more than one set.
How much does she earn per day to own such vast amount of wealth
 "In a day, the minimum number of clients I get is receive is between 60 and 80." She charges each Sh1,000 'consultation fee' adding she never fails because "witchcraft is action." Having at least 60 clients means she rakes in Sh60,000 a day from 'consultation fee' alone, which totals to Sh1.8 million a month. Her clients range from politicians, businessmen to corporate bigwigs.
For those customers who cannot make it to her house, they employ use of WhatsApp where they send in their pictures and their problems are sorted.
Anne Mutheu says she inherited her powers from her late mum
Comments
comments