SA Ex President Zuma Set To Wed 7th Wife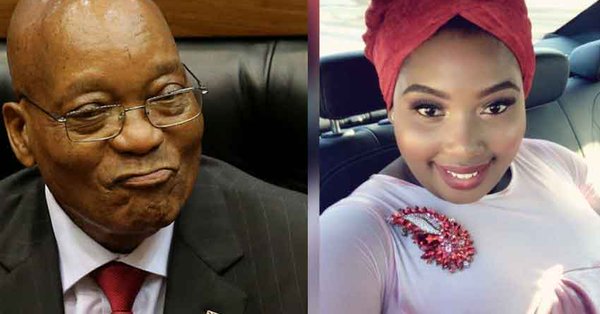 Former South African President Jacob Zuma is set to wed a 24 year old young lady as his seventh wife
The lady comes from Nkandla, as small village in KwaZulu-Natal town in South Africa.
Nonkanyiso Conco, was quoted by local media stating that she was set to wed Zuma who is now 52 years old.
The news generated mixed reactions on social media.
If you thought Conco was a slay queen type, you might be forgiven not until you read her education and work experience background
At 24 years she is a director at a youth firm, Nomukhubalwe Culture and  Youth Development Organization based in Piertermaritzburg.
A lobola -pride price- has already been agreed between the two and a half of it has been availed.
What is interesting rather, is the fact that Zuma has already welcomed his first kid with Conco who became his 23rd kid.
Zuma's other 22 kids have been nursed by 11 mothers!
Zuma's other wives are Dlamini Zuma, Getrude Khumalo, Kate Mansho, Nompumelelo, Thokeba Madiba and Gloria Ngema
Etv interviewing uBaba's new 24-year old wife.
Its not allowed to look at mkhulu's wife hence they have to look the other way! #JacobZuma pic.twitter.com/Q4059p81Ye

— Dominic Chimhavi (@DChimhavi) April 21, 2018
Is this about love or presidential status?
#JacobZuma #Mahikeng#MahikengProtests pic.twitter.com/GkO2j8x3es

— Former Kaizer Chiefs supporter☆ (@CliffClifford75) April 20, 2018
#JacobZuma is marrying a 24 year old 😐🤒😂

Listen, the mother of your future wife hasn't been born yet. Don't rush😂😉 pic.twitter.com/SOQFgXK800

— 👑uNdlunkulu (@uNdlunkulu_Xoli) April 20, 2018
Nonkanyiso Conco is getting married to Jacob Zuma, they have a two weeks old baby. She is 24 years old, Zuma is 76 years old. This means she was born in 1994. So Zuma is getting married to a born free wow. When Zuma was 51 years old she was not born yet. #JacobZuma pic.twitter.com/IxVhrl8cVS

— Jones Mzizi (@jonesmzizi) April 20, 2018
Comments
comments